New and Improved Reporting Available Now!
Utilizing accurate and informative data is one of the best ways to make real change happen in the classroom. Our goal at Matific has always been to empower teachers to do their best work by providing them with tools that are straightforward and intuitive to use. Our new reports give you the information you need in a powerful and easy-to-use format so you can make data-informed decisions in no time!
Powerful insights at a glance
With our new easy-to-read reports, you can now rely upon visual cues that indicate problem areas so that you know what's working and what's not with just a glance. Understand your class's strengths and areas of concern by each mathematics topic. Keep scrolling to see information about each student across those topics - color-coded so you never miss a thing.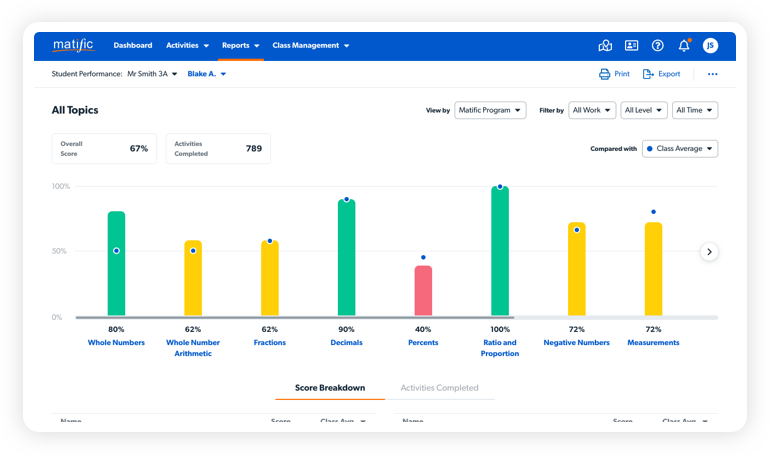 See how your students are performing
Want to dig deeper? Click on any topic or student name to view our simplified drill-down system. This allows you to dive deeper into details when and where necessary with just a simple click.
Our new reports allow you to easily monitor progress made and the overall score of the class. At a glance, see what skills your class/student is strong in or needs practice in. Drill-down to a specific skill to see how the class/student is performing in the sub-skills of the selected skill. And now, compare your class information with our global or national averages or compare with your class score 30, 60, or 90 days ago.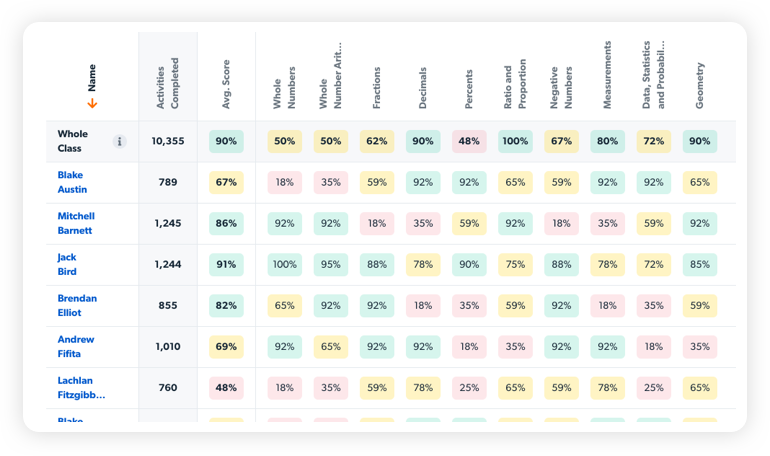 Highlight the data that matters
Our new filters allow you to reduce the data set you're looking at for easy analysis. You can view the report by Matific Program or curriculum, and filter it down by schoolwork, homework, and more. You can also choose what date range you will like to focus on to view the report. In addition, a separate tab for "Activities" clusters all activities completed by the student by date, making it easier for you to see all the work the student has completed on a particular day.
Anywhere, anytime, any device
Not at your desk? We've got you covered. All our reports are fully mobile-friendly and responsive so you can get things done quickly and easily - no matter the device.
Want to use data to make informed decisions about your mathematics instruction and student learning? Head on over to the new Matific reports, available now!