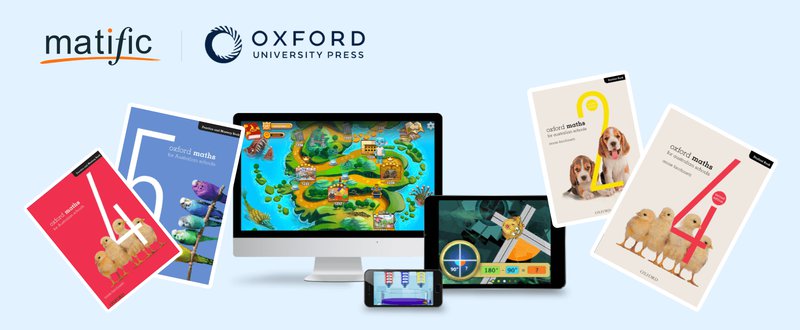 Matific partners with Oxford University Press to strengthen hybrid learning support in maths education for primary schools
Matific  has joined forces with Oxford to bring together the best of both worlds for teachers and students by offering seamless continuity of education from school to home with individual learning pathways that are designed to adapt to students' level of need. Matific has created a tailored version of its program that directly aligns with the Oxford Maths textbooks sequence of topics and learning instruction. Students are able to access structured programs and gamified contents aligned with Oxford maths and complete activities directly linked to their classroom instruction. Assessments and up-to-the-minute data help teachers keep track of student progress and provide personalised support and attention to each student.
"I'm excited that the Oxford Maths x Matific partnership means we can offer seamless continuity of education from school to home, with individual learning pathways to adapt to students' level of need. It reinforces OUP's commitment to support teachers and learners anytime, anywhere,"
 Arthur Baker, Managing Director OUP ANZ stated.
Together, Oxford Maths x Matific combines the best of offline and online instruction to offer a complete differentiation solution for F–6, ensuring every student can experience success at their own level.
The circumstances surrounding the COVID-19 pandemic have accelerated changes in education like nothing else in history. Despite the progress that has been made in hybrid learning styles, it can still be hard for teachers to find digital solutions that make sense in the classroom.
"Over the last 18 months, we've seen the importance of hybrid learning styles and digital education. We've continually heard that ensuring relevance between offline and online modes of instruction is required. This partnership with Oxford University Press ensures that whether studying maths online or in a textbook, there is a seamless link between content for both teacher and student,"
Craig Shotland, Matific CEO, explains.
For Teachers:
The complementary nature of Oxford Math and Matific provides many benefits for teachers. Not only will teachers have access to Oxford Math's amazing assessments, exercises, lessons, and Teacher Dashboard for support, tracking, and resources, but they also get Matific! In addition to gamified learning activities that are tailored to each student's level and skills, Matific provides real-time reports that show exactly what students are learning and in which areas they can improve. The combined effect is that teachers always know exactly how to support each students' individual needs and what next steps to take. What's best is that the two resources work seamlessly together for effortless implementation.
For Students:
Students love when maths brings fun, engaging, real-life scenarios into their learning. Matific's activities, such as counting by tens when purchasing boxes of fruit, or working with a digital 100 board, reinforce ideas children learn in lessons. Plus, the complementing textbooks, whole-class lessons, and assessments give students plenty of opportunities for discussion and practice. In addition, students get the benefit of completing meaningful work individually and then getting to discuss it and work through it in the classroom. While teachers are working with students in groups in person, other students can stay on track with correlating Matific lessons and activities. This dynamic can help students achieve the benefits of both social learning and individual learning.
Are you ready to get started?
For a limited time, subscribe to Matific for Oxford Maths for 12 months and receive a 25% discount PLUS free access for the remainder of 2021.
Follow the link to sign up and learn more about Matific and Oxford Maths here!
Join our live online webinar with Oxford Maths author Annie Facchinetti and leading maths educator Anita Green for a discussion on differentiation in the maths classroom and the benefits of online practice.
Learn More
Date: 28 October 2021
Time: 4:00pm - 4:45pm AEDT
Have questions?  Please get in touch. We can't wait to hear from you.
Try out some of our episodes for yourself!
Grade 1: Measurement and Geometry- Location and transformation

Grade 2: Number and Algebra - Number and place value

Grade 3: Number and Algebra - Fractions and decimals