Let
Matific

Help Your District
SIS, SSO and data integrations

Training and support

Real-time reports across your district

Aligned to curricula and state standards

Proven results
Make Decisions with Data-Driven District Reports
District Report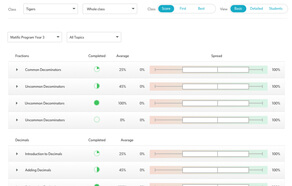 Track all students, teachers and schools' progress easily with real time reports
Use admin login to view all schools in one place
Drill down to each individual school's results for actionable data
Plan and allocate district resources for schools requiring additional support
Identify district-wide topics requiring additional instruction, in real time
Develop targeted Professional Development Plans for all educators
Built for Your Curriculum
Can't find your curriculum or textbook, or need a custom alignment?
Thousands of rigorous, research-based, pedagogically- sound activities

Assign activities to groups of students, or let Matific do it automatically

Aligned to YOUR curriculum, and YOUR preferred textbooks

Choose the best alignment option for optimal teaching and learning
Seamless integration with our partners
It's a big priority of ours to ensure large scale integrations are seamless and painless. Unsure how to integrate Matific with your Learning Management System?