Work Progress Report Now Available for Teachers
How can you easily check which students in your class have done their assigned Matific activities and who has not?
Our new, easy-to-read Work Progress report will help you answer those questions with just a glance.
You'll see live class work status - schoolwork or homework - by each day that work was assigned. Scroll down to see a breakdown by each student across the days-color-coded by status so you never miss a thing.
Our simplified drill-down mechanism allows you to dive deeper into details when and where necessary with just a simple click. Click on any student name to see a breakdown of all work assigned grouped by days it was assigned.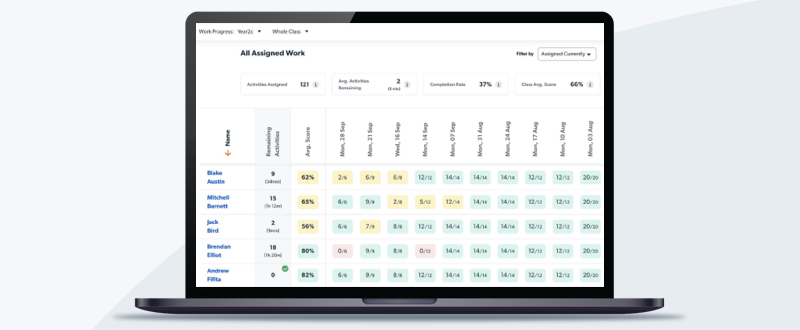 By using the Work Progress Report, you'll get access to the following information about your class/students:
Key Class Highlights: Easily monitor work progress and completion rate for the entire class.
Simplified Filters: Reduce the data set you're looking at for easy analysis. Easily filter the report to look at work by when it was assigned, by work status (completed, in progress, not started), by work area (schoolwork / homework) or by how it was assigned (auto-assigned or manually-assigned).
Student-focused Summary: Easily understand student work progress across days when work was assigned with a single glance. Drill-down to see more details for each student clustered by days.
Find out what your students have accomplished and keep them on track by viewing Matific's new Work Progress Report now!
To access the Work Progress Report, simply login to the teacher platform and go to Reports > Work Progress Report.