Find Activities You Need Fast
The Matific Teacher platform now offers a time-saving, user-friendly option for locating the mathematics activities you're looking for in no time at all.
Now you can browse the entire Matific Catalog and find activities to use with your students in the way that best suits your needs. With the all-new, redesigned Activities page, teachers can see an overview of all topics and subtopics for a specific grade at a single place. You can also search for content right from where you are in the platform, it's that easy!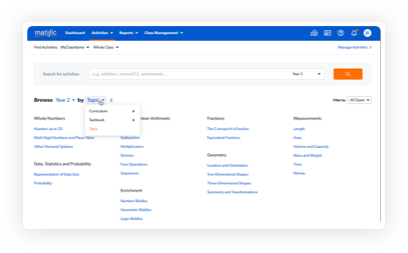 Use the following features to make browsing and assigning activities quicker than ever.
Browse Activities: See a list of all topics and subtopics for a grade at a single place. Click on a subtopic to view the next level and the activities that it contains. Filter by activity types to find the right activity at the right point in time.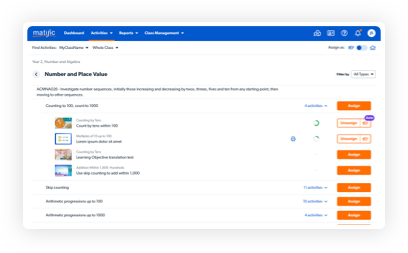 Search Activities: Can't find what you're looking for and want to search instead? No need to go anywhere else. Start the search process right from the activities page. The search results gives you a quick view of the activities that closely match the keywords in your search.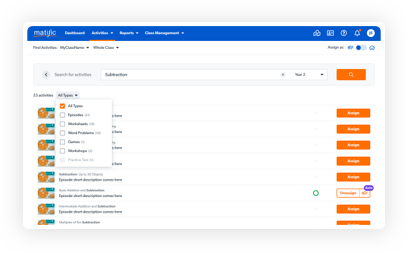 Assign Activities: Found what you're looking for? You can assign activities at a subtopic or an activity level to the whole class, a group or an individual student. You'll also have the option to assign activities as homework or schoolwork. It couldn't be easier!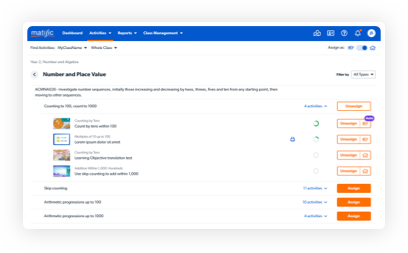 View Assigned Activities: Finally, the new Assigned Activities page groups all assigned activities by the week in which they were assigned. Easily change the order of the activities within a cluster, or change from homework to schoolwork and vice versa for the entire group. Want to personalize at a student level? Simply change the view to a personalized view to see what's been assigned for each student individually and make changes from there.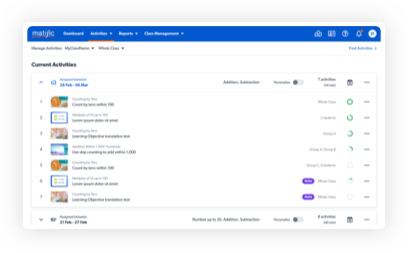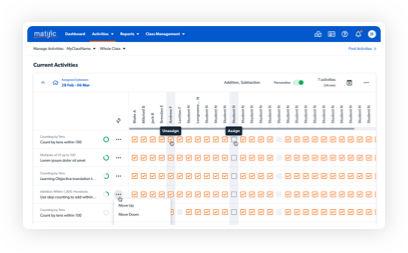 Can't wait to try this newly redesigned experience?  
Get started by logging in to your teacher account and going to Activities > Find Activities today!